TORONTO'S PRO-HOUSING MOVEMENT
More Neighbours in More Neighbourhoods, with Access to More Jobs, More Culture, and More Opportunity than Ever Before.
We believe in ending the culture of small thinking that dominates Toronto's contemporary housing policies. We advocate reforms to increase our city's ability to build new multifamily homes in every neighbourhood. We believe in building homes for those who dream of building their lives in Toronto.

We are a network of pro-housing voices from across the political spectrum that are committed to counterbalancing the anti-housing agenda that dominates Toronto's politics and has created an affordability crisis.
We're arming our community with the information, knowledge, and resources to make their voices heard where and when it matters. Join our community of passionate housing advocates and be the change that you want to see in Toronto.
THE INJUSTICES OF BAD HOUSING POLICY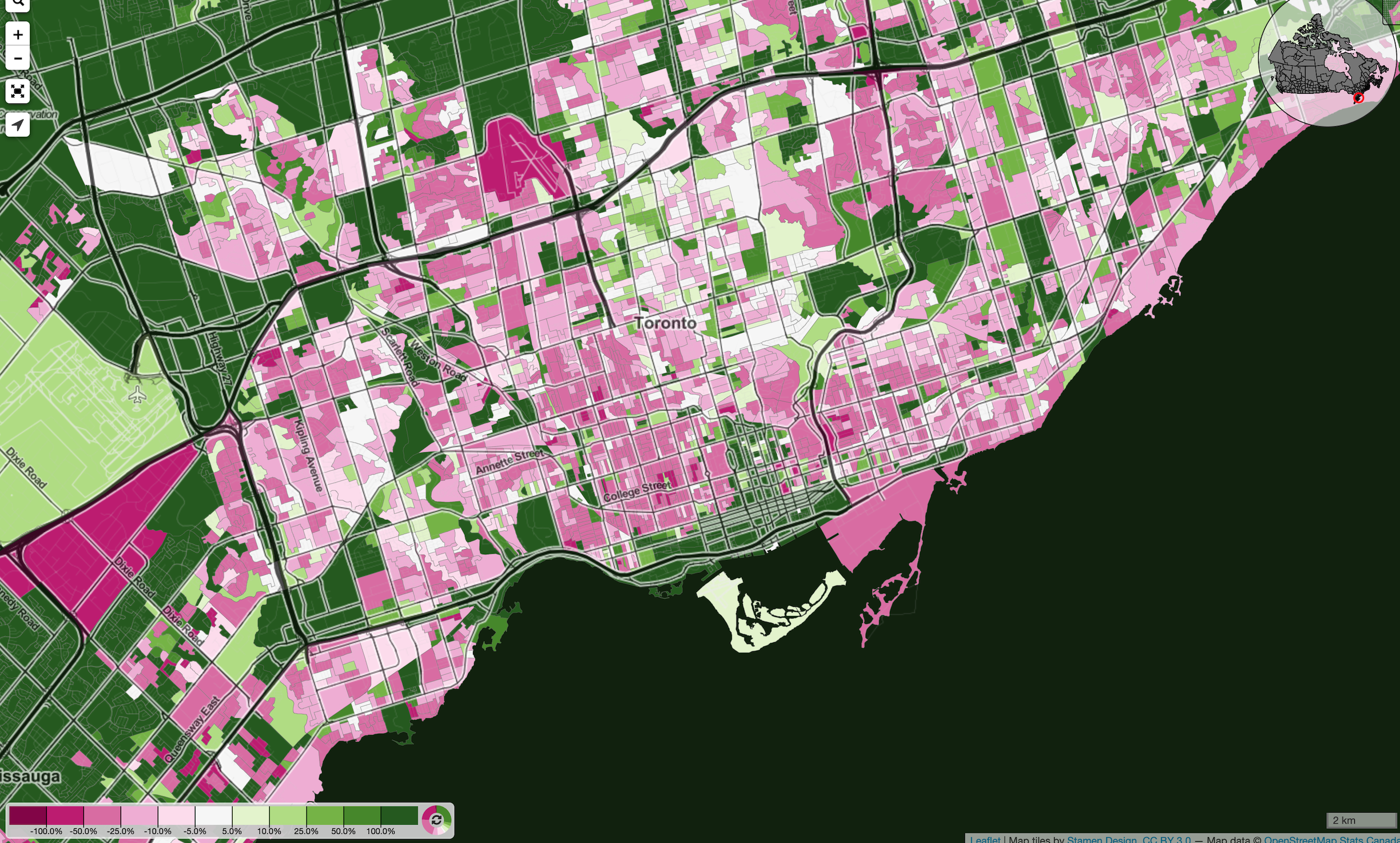 Toronto Population Change, 1970-2016
More than half of residential neighbourhoods in Toronto lost population while the city nearly doubled in size.
In Toronto, A family needs an income of over $180,000 to purchase the median home. An income of over $130,000 is needed to purchase the median condo. Only the top 10% of families in Ontario can afford the median dwelling. The skyrocketing costs of housing in Toronto are no accident.
Decades of bad policies from municipal, provincial, and federal governments have stoked housing demand while suffocating supply. Landed Canadians have experienced unprecedented increases in net worth while young, racialized, working class, and new Canadians are left with shattered dreams.

The City of Toronto and the Province of Ontario are especially culpable for creating and sustaining the explosive costs of home prices. Highly restrictive zoning laws, poor long term planning, low public investment in housing, misaligned incentives, and excessively bureaucratic permitting processes suppress our ability to build enough homes for families.

Restrictions on the construction of multifamily housing in Toronto's most desirable neighborhoods ensures they remain enclaves for the wealthy. The exacerbation of geographic inequality and the policies that support the "Preservation of Neighbourhood Character" are intended to keep class and racial diversity out.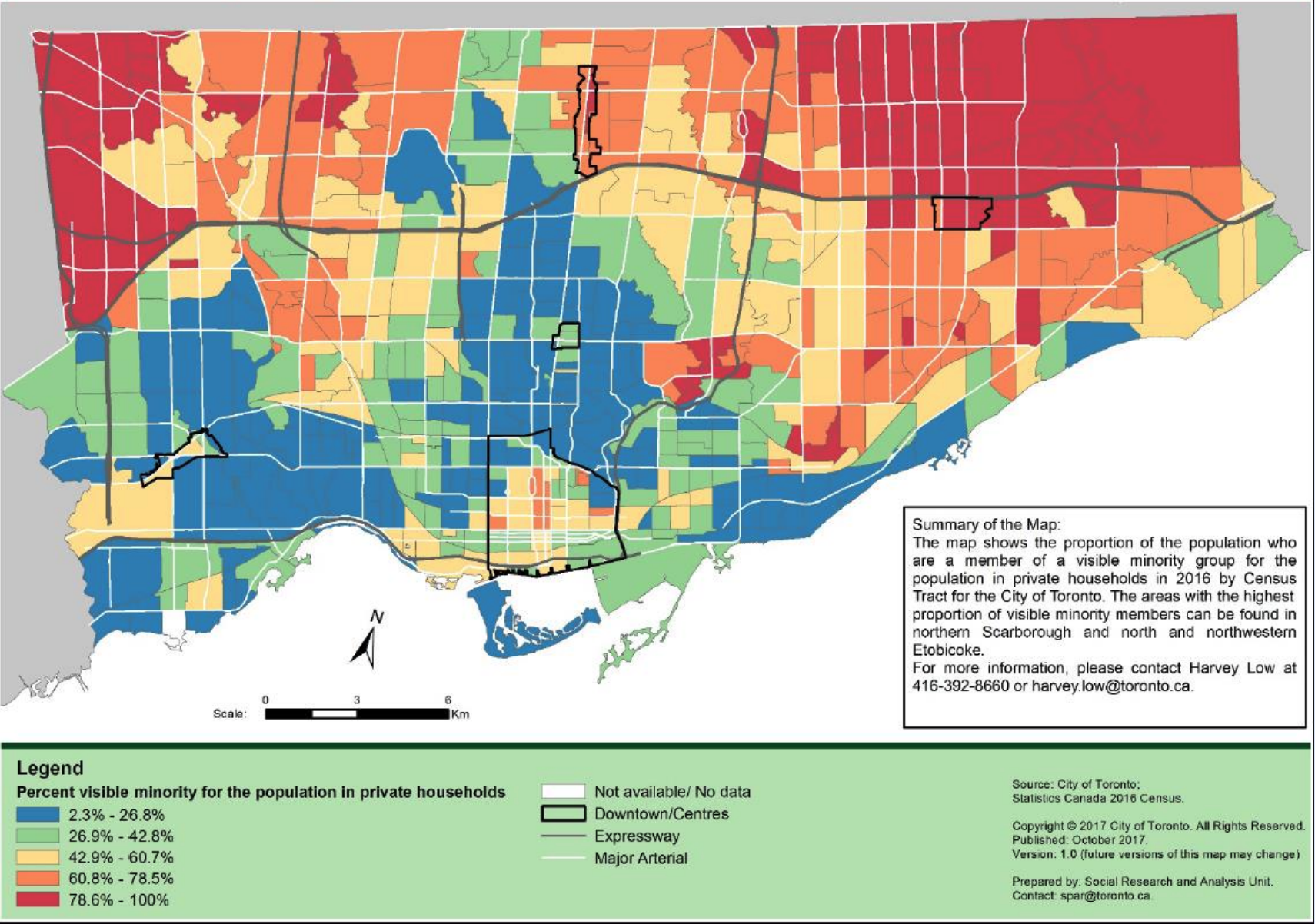 Toronto's shrinking neighbourhoods are less diverse than the rest of the city. Image sourced from the City of Toronto.
As the cost of housing rapidly outpaces the cost of living, young Canadians must choose to give up on their homeownership dreams or take on extreme levels of debt. This amounts to the greatest generational transfer of wealth in Canadian history, and its happening in reverse - from the young to the old.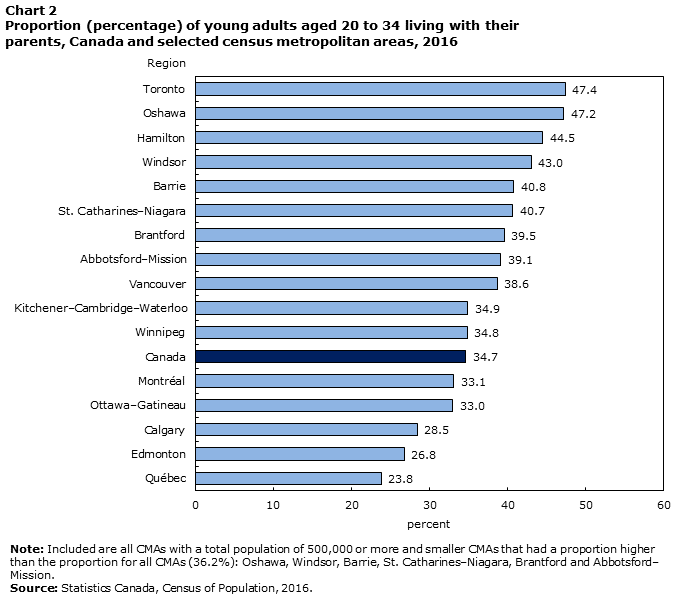 Toronto has the highest proportion of young people living with parents during their peak family formation years. Sourced from Statistics Canada.
The extreme costs of housing are creating two new classes of Canadians: A new aristocracy of landed families able to help their children into ownership, and everyone else. When hard work and merit no longer matter, questioning of Canada's liberal economic system will only lead to populism and conflict.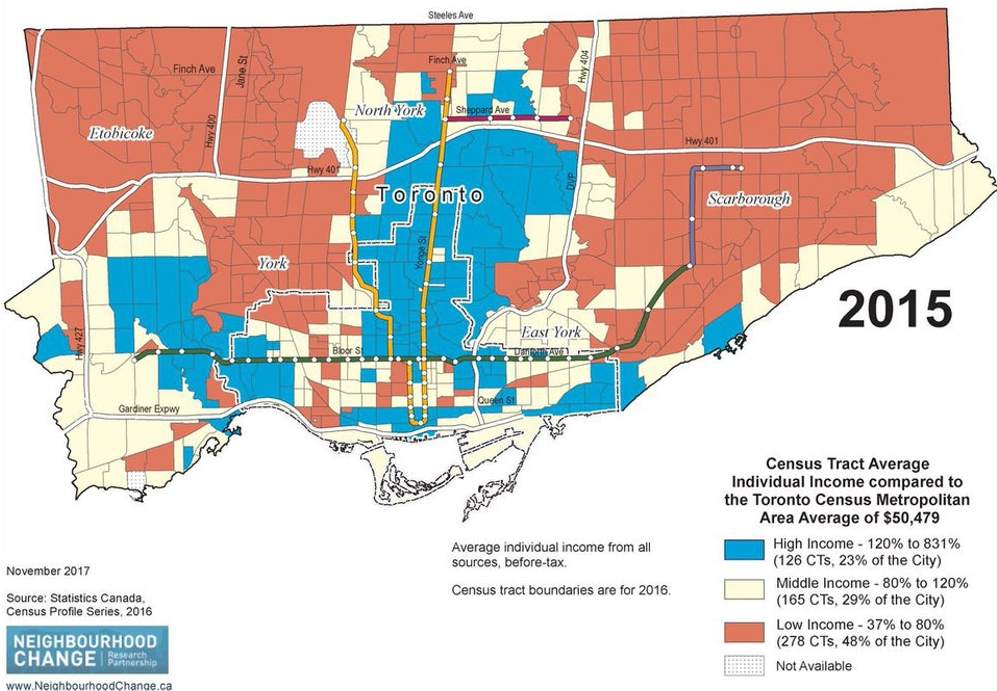 Toronto's shrinking neighbourhoods are also its wealthiest. Image sourced from Neighbourhood Change.
When neighbourhoods are made off-limits to multi-family housing and infill development, the only options left are to build car dependent neighborhoods on greenspace, or up into carbon intensive concrete and steel based towers. We cannot make progress on climate change without progress on housing.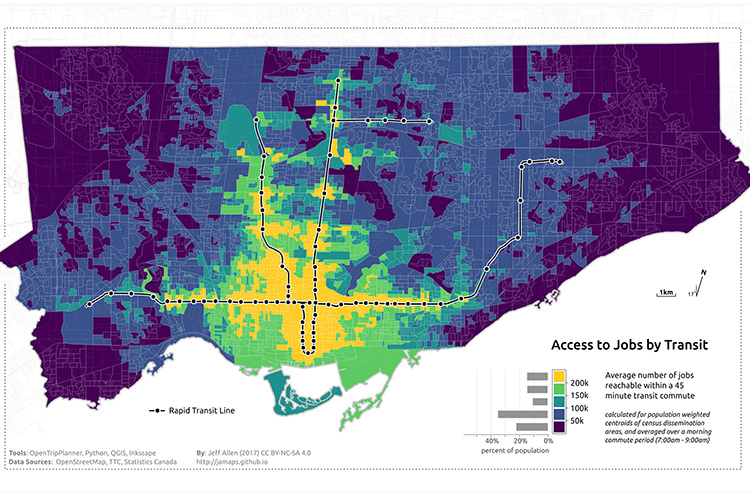 When transit is unavailable, people are forced to drive to access opportunities. Created by Jeff Allen in 2017.