EVERY LEVEL OF GOVERNMENT CAN DO MORE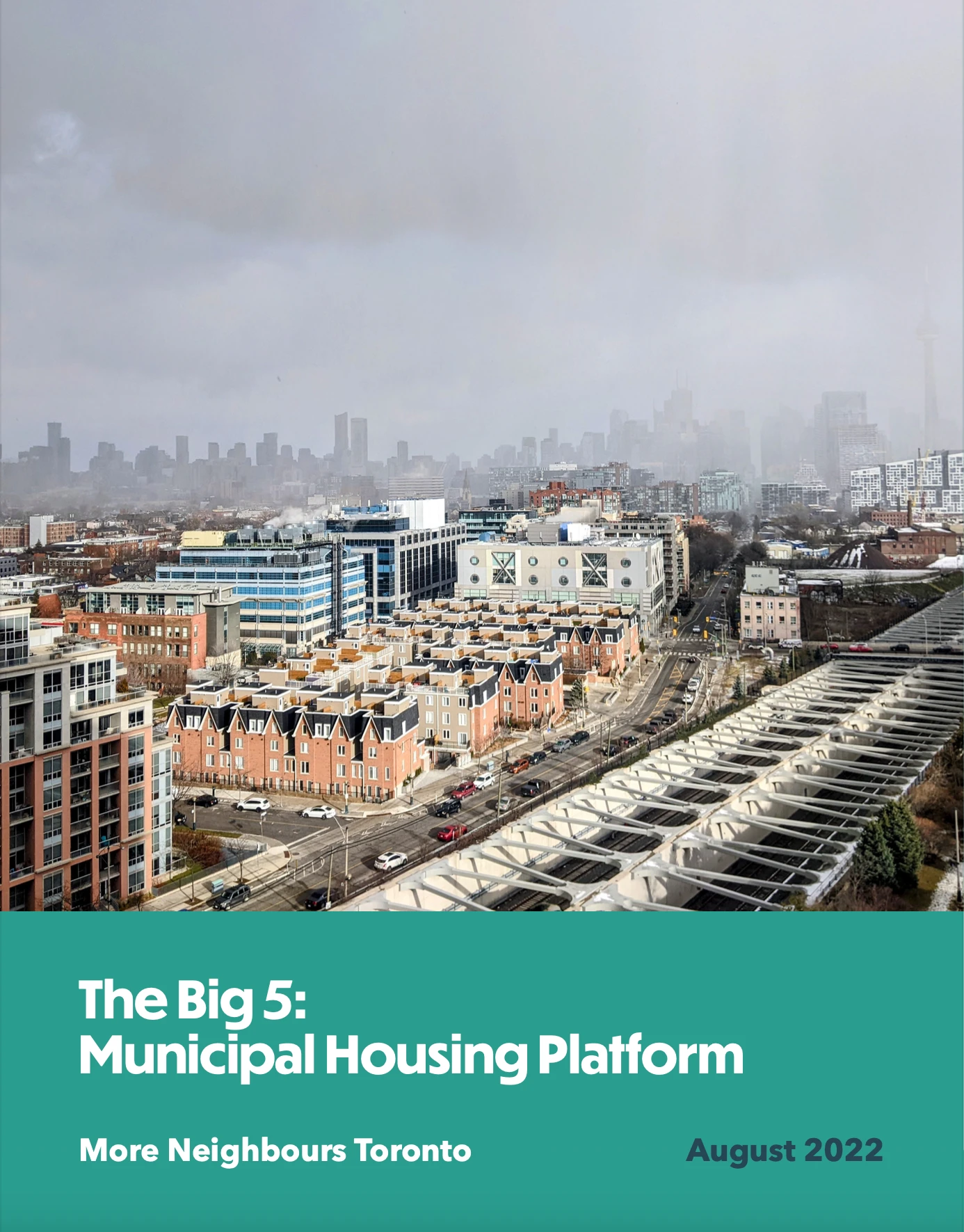 Municipal governments in Ontario have been given primary jurisdiction over land use planning and housing policy by the Province. While it is worthwhile to correct many issues at the provincial level, municipalities have the tools they need to move on this issue independently. Our suggestions will improve city affordability, the financial sustainability of municipal government, improve services, and help Toronto meet it's climate objectives.
While The Big 5 Municipal Housing Plaform was created for 2022 City of Toronto elections,  the principles and policies can apply to all municipalities in the province. They are:
Legalize Housing For All 

Make Rules That Make Sense

Build Affordable At Every Opportunity

Ensure Consultation Reflects Communities

Tax Equitably And Sustainably 
Provinces are constitutionally empowered with rights over land use and housing policy, even if they extend jurisdiction to municipalities. As such, the Government Of Ontario has the greatest powers to change the trajectory of housing unaffordability in the province. If the province pursue's our suggestions, the regional housing crises will be alleviated, and a far more dynamic, participatory, and attainable housing future is possible.
While The Big 3 Provincial Housing Platform was created in late 2021 for the Housing Affordability Task Force, the suggestions continue to be as relevant:
Ensure The Market Functions Like A Market


Changes to growth planning, zoning, rules, processes, barrier & fees


     

Make Rental & Non-Market Housing Work


Policies that incentivize market rental, affordable, co-op and public housing



Aligning Incentives & Enforcing Targets


Policies for better public consultations and more cooperative municipalities 
While the federal government does not have constitutional purview over land use and housing policy, it does have incredible financial and regulatory powers along with the attention of the National Media. Given their ability to influence national policy, the Federal Government can do much more than it's letting on to encourage reforms to end the housing crisis, particularly in Ontario & BC.
Dominate The Conversation & Incentivize Better Practices

Funding Housing & Investing Better

Incentivize Better Systems, Disincentivize Speculatative Demand

Immigration, Supply Chains, and Innovative Policy