Municipal Election Endorsements
The 2022 Municipal Elections are a pivotal one, where housing is at the top of the agenda. We have already published a comprehensive platform outlining our policy asks from all municipal candidates.
We've identified some candidates who are running on a strong pro-housing platform, with strong overlaps with our own. Our endorsements primarily hinge on each candidate's housing platform. The housing crisis requires strong municipal action, and our endorsed candidates are ready for that job. However, no two wards in Toronto are the same. Some of the candidates below are running against anti-housing, NIMBY opponents in their wards. In these wards, every additional pro-housing vote matters. In other wards, we see a large slate of solid pro-housing choices, with little separating the best from the great.
Throughout the 2022 Election cycle, we will be identifying pro-housing candidates that meet our criteria on a ward-by-ward basis and publishing endorsements on this page as well as on our Twitter and Instagram.
Ward 8 Eglinton-Lawrence:
Evan Sambasivam
Evan was inspired to run after losing a friend to complications from homelessness. He advocates for supportive housing options to end chronic homelessness, as well as for increased supply and zoning reform to address affordability and provide increased options for students, families, and seniors.
In standing up to anti-Asian statements from his primary opponent, Evan highlighted that every ward has a role to play in building diverse, welcoming communities.
With the completion of new transit along the Eglinton corridor, Ward 8 will need a strong voice to support affordable housing options and to help this growing community flourish.
Ward 13 Toronto Centre: Chris Moise
As a city councillor Chris will be able to draw on his experience as a school trustee, vice-chair of TDSB, and local business owner. He understands the ward faces challenges around affordable housing, and knows the ward and city need smarter development to achieve city housing goals.
If elected he promises to end exclusionary zoning and unlock more housing in existing neighbourhoods. A champion of affordable housing, he also promises to build deeply affordable housing on City lands, and renovate TCHC's existing affordable housing stock.
Ward 15 Don Valley West: Sheena Sharp
As an architect, Sheena has seen first-hand the barriers and delays to getting housing, daycares and complete communities built. She advocates for planning and zoning reform to allow more housing as-of-right and to streamline approvals, with broader public input that focuses on community growth instead of individual projects. She supports housing options that allow families and young people to stay in Toronto and existing residents to age in place, as well as a strong social housing program for those in the lowest income brackets. In addition, Sheena is an experienced climate advocate who recognizes the role that housing policy plays in our future.
Don Valley West is also fortunate to have David Ricci running on a platform that recognizes the roles that supply, lengthy approvals and rapidly increasing fees play in the housing crisis.
With an incumbent who has proudly delayed housing and limited the front door access for secondary suite rentals over aesthetic concerns, this ward needs a housing champion.
Ward 20 Scarborough-Southwest: Kevin Rupasinghe
As a candidate Kevin brings strong community leadership experience to the ward, having spent time advocating at Cycle Toronto and working in Cities Engineering.
While the incumbent in the ward voted against Garden Suites, the most gentle form of intensification, Kevin has committed to getting all types of housing built in our city, in order to create affordable, walkable, and climate-friendly communities. Kevin is working to build a community where density, greenery, and amenities go hand-in-hand.
Ward 23 Scarborourgh North: Jamaal Myers
Jamaal is a lawyer for TD Bank and a skilled community organiser and coalition builder with experience leading local economic development initiatives.
His housing priorities include legalising and regulating rooming houses as well as the building of 40,000 affordable rental homes in Toronto by 2030, in line with the HousingTO 2020-2030 Action Plan. Through his volunteer work for Housing Now TO, he has supported affordable housing development in Toronto. Jamaal believes in prioritising transit and walkability to create vibrant, climate-friendly communities.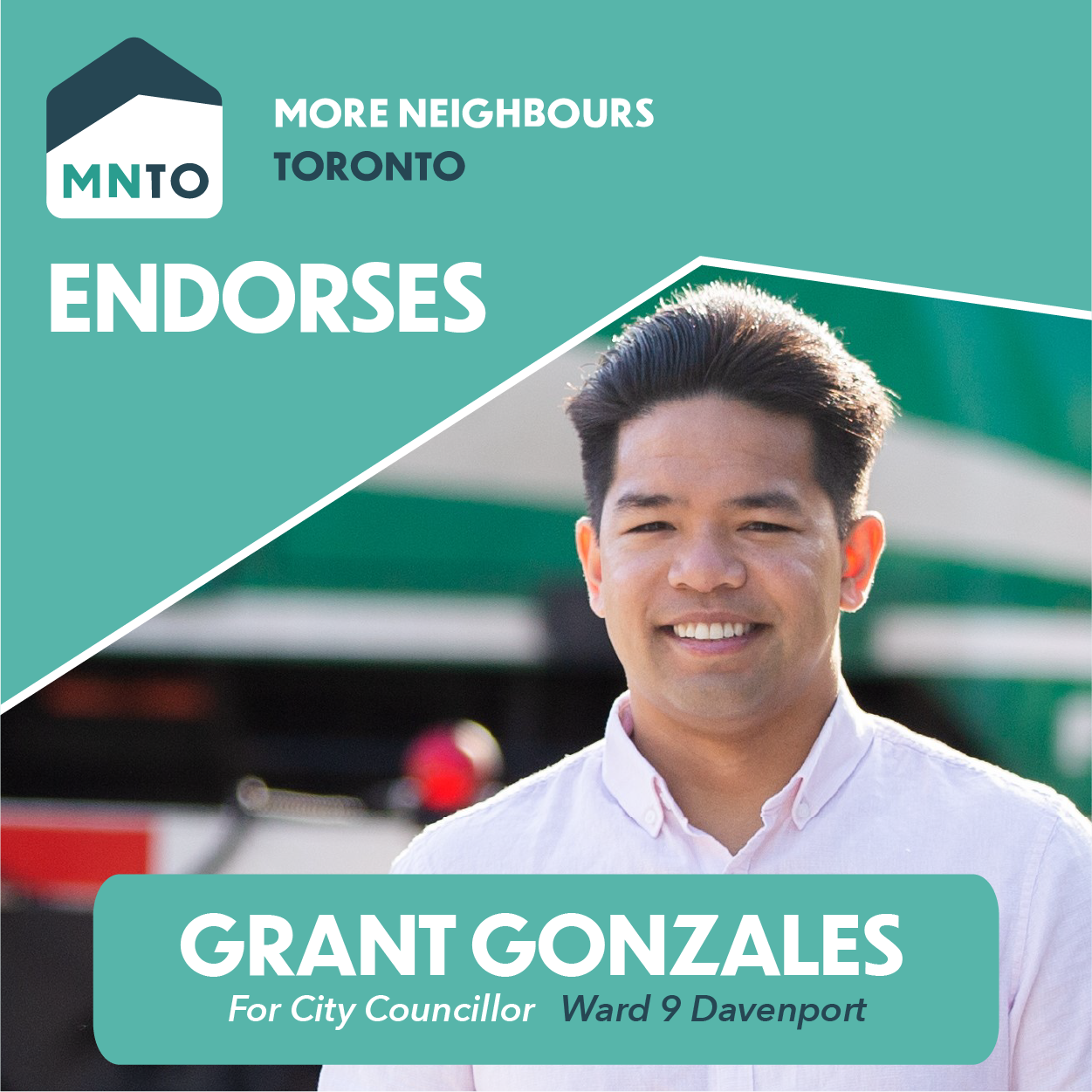 Ward 9 Davenport: Grant Gonzales
Having grown up in both Brockton Village and now living in the Junction Triangle, Grant is keenly aware of issues facing ward residents, including the current housing affordability crisis. His previous service on the Davenport Perth Neighbourhood and Community Health Centre and current role as co-chair of Pride Toronto have brought him in to contact with the breadth of Toronto diversity, and provided the skills he needs to be successful at city hall.
He is committed to working urgently to change policy and make it easier to build all forms of housing in Davenport and across the city.
Ward 10 Spadina-Fort York: Igor Samardzic
Igor has long been a champion for the reforms our organisation advocates. From his work as an urban planner, to his advocacy on housing options for people with disabilities, to his excellent work on the Expanded Housing Options in Neighbourhoods (EHON) multiplex roundtable, he demonstrates passion and expertise on housing that will be invaluable on council.
He has worked directly to support, approve and manage affordable housing developments in the private sector and on the Committee of Adjustment at the City of Toronto. His experience gives him a deep understanding of the changes needed to our planning process to ensure more affordable housing is built quickly.
Spadina-Fort York is lucky to have multiple candidates with strong housing platforms. Ausma Malik has served the community well, and has been thoughtful in her engagement on housing. We hope to see more candidates like her in the future.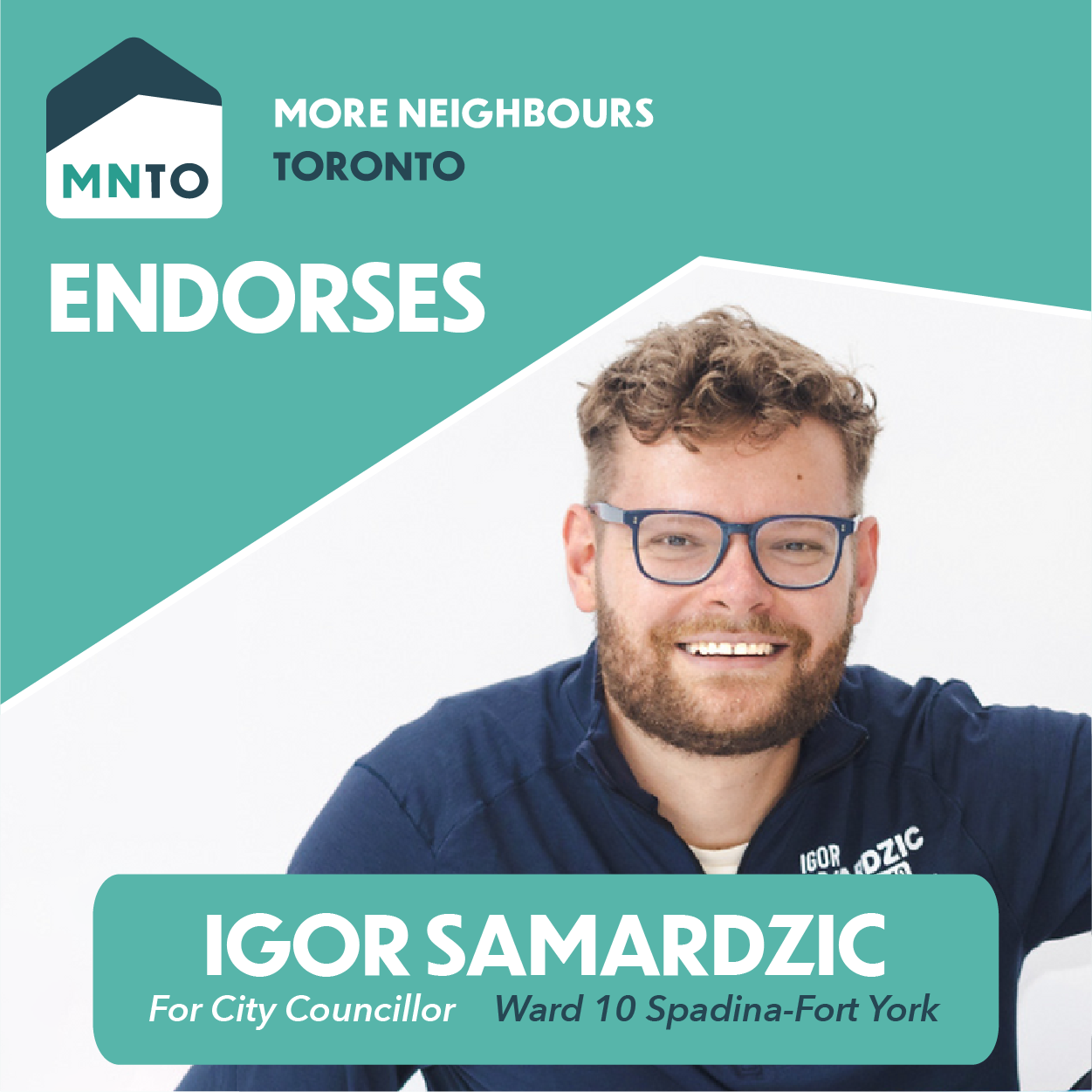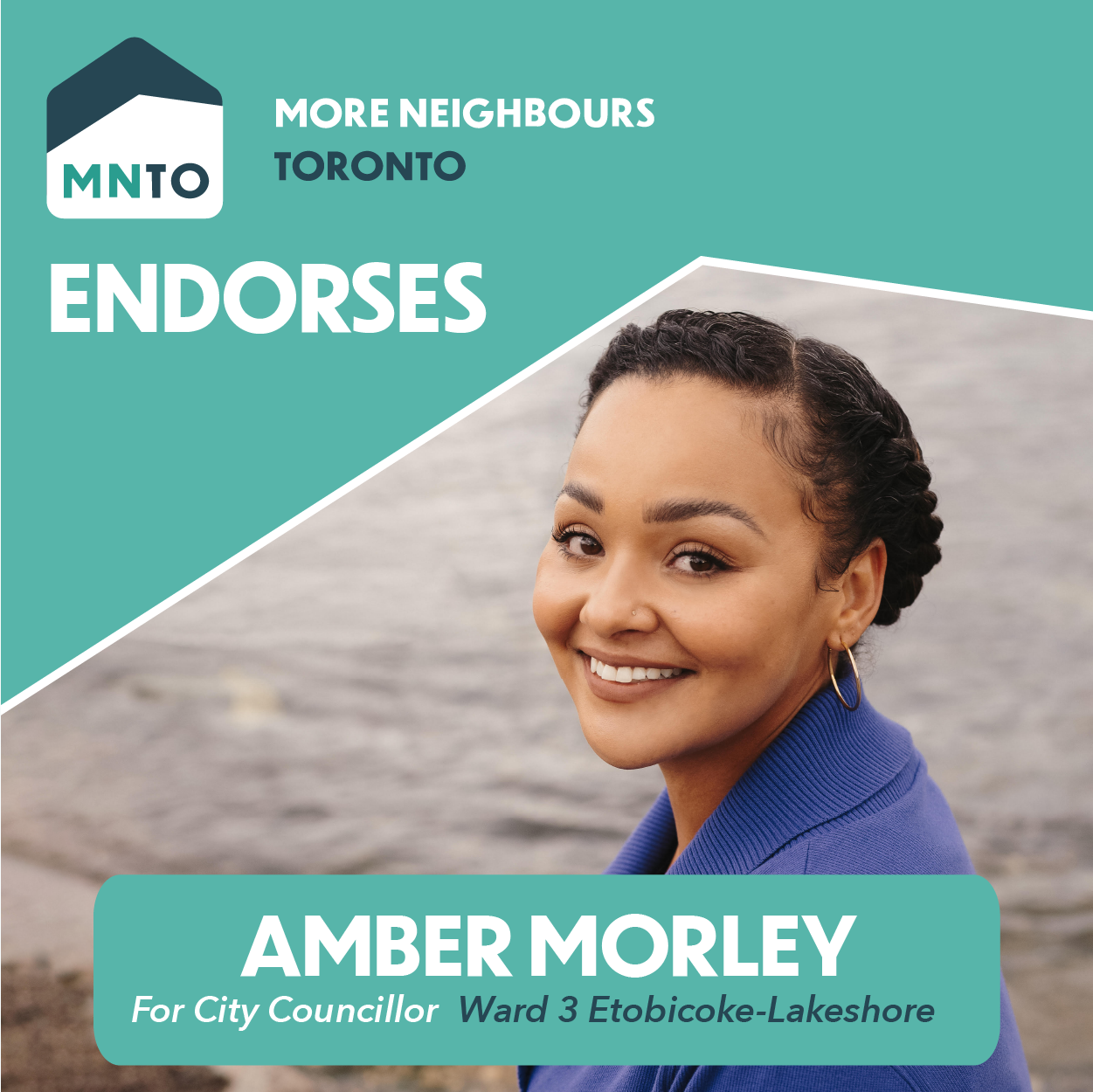 Ward 3 Etobicoke-Lakeshore: Amber Morley
A long-time resident of the ward, Amber is familiar with the challenges and inequities facing her community. Affordable housing is a key priority for her, as she recognizes that the current housing crisis hurts all residents.
Amber is committed to working with council as well as other levels of governments to both ensure existing strategies are used and new strategies and policies are developed that result in increased access to a range of housing options for Ward 3, including affordable rentals, supportive housing, and laneway and garden suites.
(Photo Credit: Brianna Roye @briannablank on Instagram) 
Ward 19 Beaches-East York: Brad Bradford
Brad is a known housing champion with experience on the Planning & Housing Committee. 
He consistently advocates for affordable housing initiatives in his ward, including a Housing Now site on Queen St E, in which he invested considerable political capital. Brad is not afraid to move the housing conversation forward, tirelessly engaging with the community to build support for supportive housing at Trenton/Cedarvale.
Brad is the only sitting councillor to bring a missing middle pilot to his ward, making it easier to build gentle density housing such as multiplexes. He is also the only sitting councillor to create more permissive zoning for garden suites in his ward, allowing more functional spaces for families.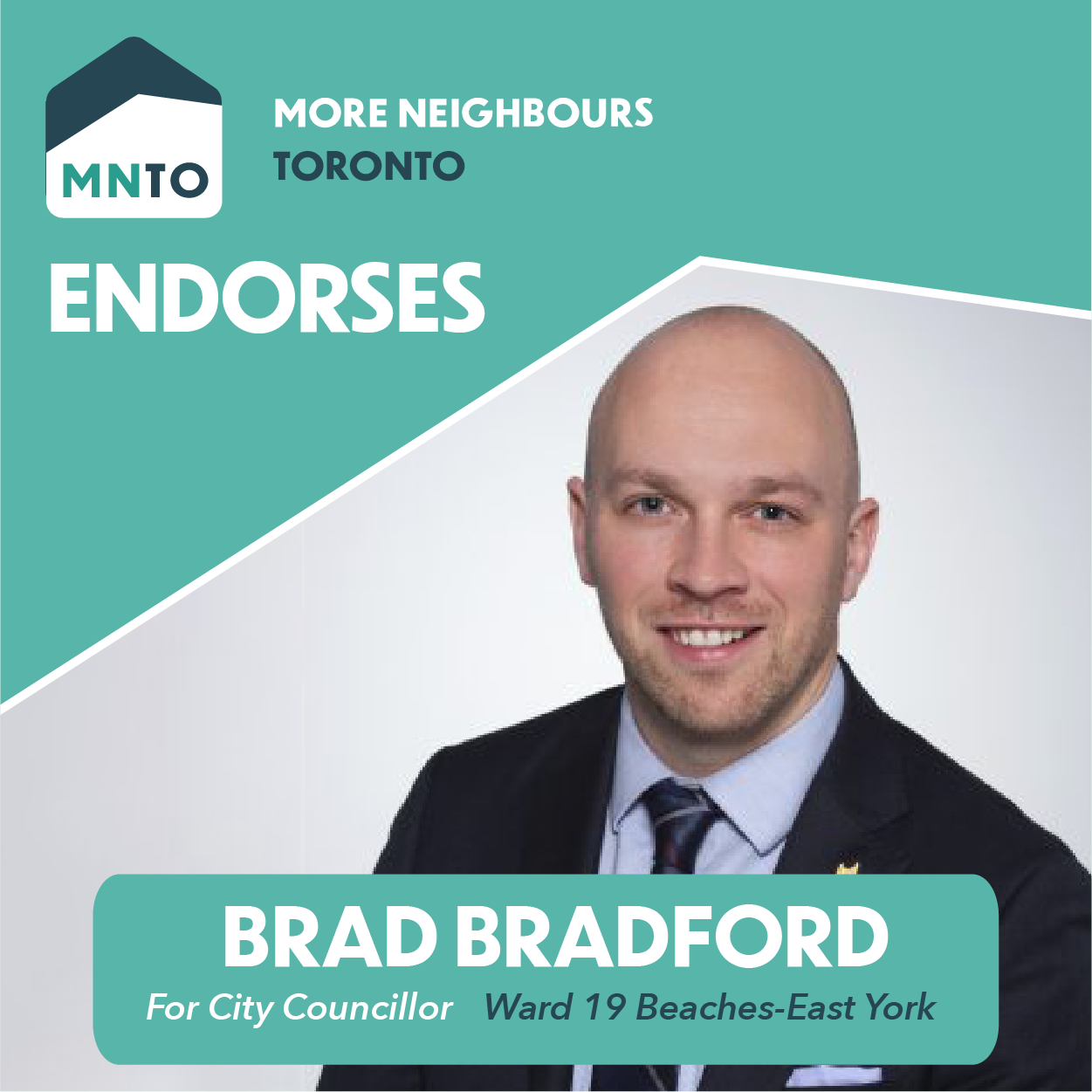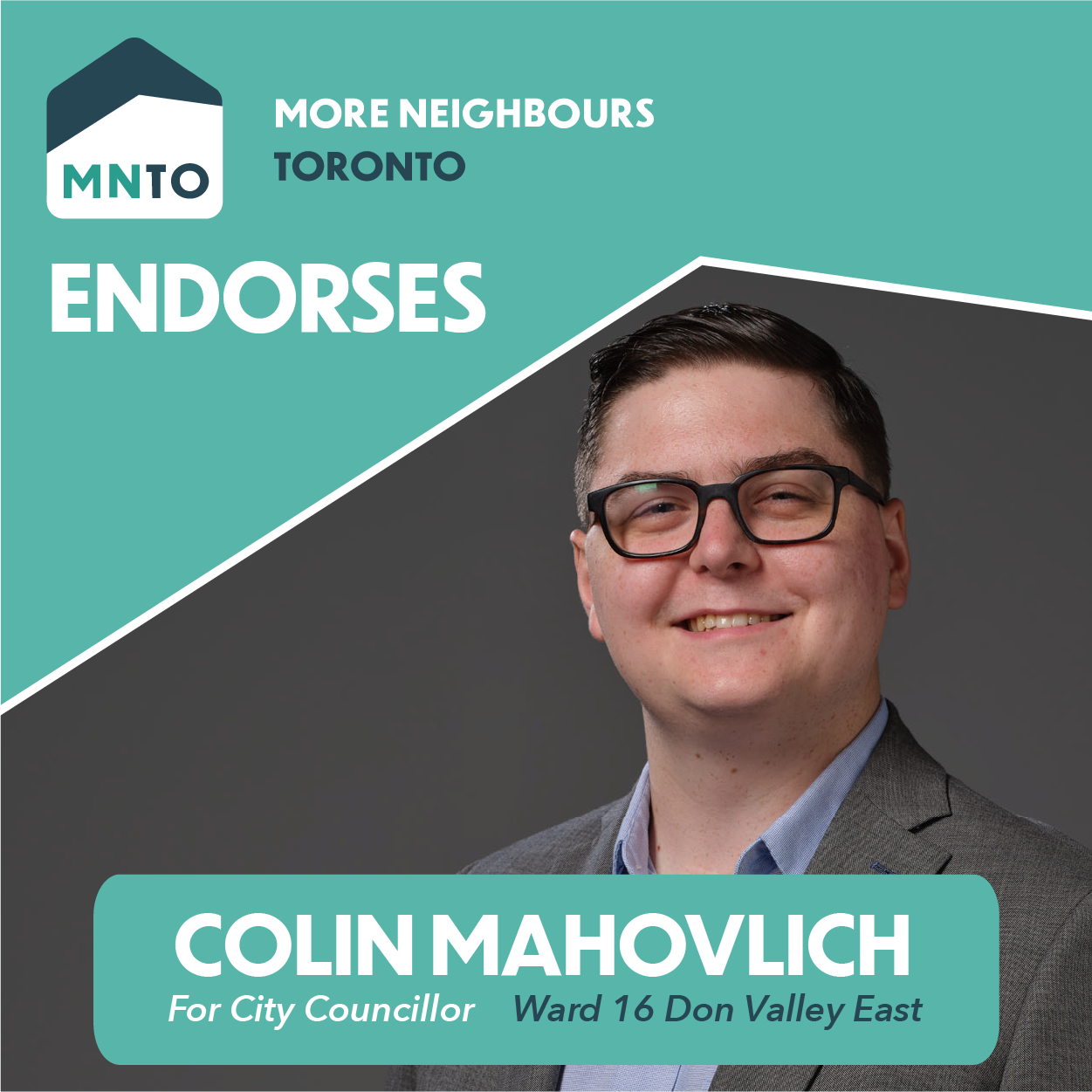 Ward 16 Don Valley East: Colin Mahovlich
Running on a platform of affordability, Colin knows that what Toronto has planned for the next ten years is not enough to solve our current housing crisis. He knows that bold, ambitious steps need to be taken to create the Don Valley people want to and can afford to live in.
Colin believes that integrating changes to housing policy with better transit and safer streets is how we make rapid development sustainable for Torontonians. He is committed to being a councillor who listens to constituents and tirelessly advocates for the ward.
Ward 2 Etobicoke Centre: Thomas Yanuziello
An environmentalist at heart, Thomas wants to bring new leadership and fresh ideas to City Hall to address our current affordability issues.
He believes that increasing supply, introducing rent control, and stopping speculation can help Toronto move towards being a city where people can live in the same community they work in, that they grew up in, and where their support networks live.