More Neighbours Toronto is a big-tent organization which aims to raise awareness of the social and economic consequences of unaffordable housing. As such, we strive to approach everyone in good faith, since we don't believe people get up in the morning resolved to cause maximum damage to the long-term progress and prosperity of this city.
However, there are individuals who adamantly refuse to accept the evidence that our current housing policies lead nowhere but increased inequity and hardship. With municipal elections in October, we decided to highlight three councillors who - instead of using their power to help - are actively making the situation worse.
The victims of Toronto's housing crisis are real people with real names. So are its villains.
MIKE COLLE, Ward 8 Eglinton-Lawrence
It takes a considerable amount of poor judgement to fight against a development of a parking lot; it takes an exceptional lack of good sense to mail your smiling face to everyone in the area boasting about it.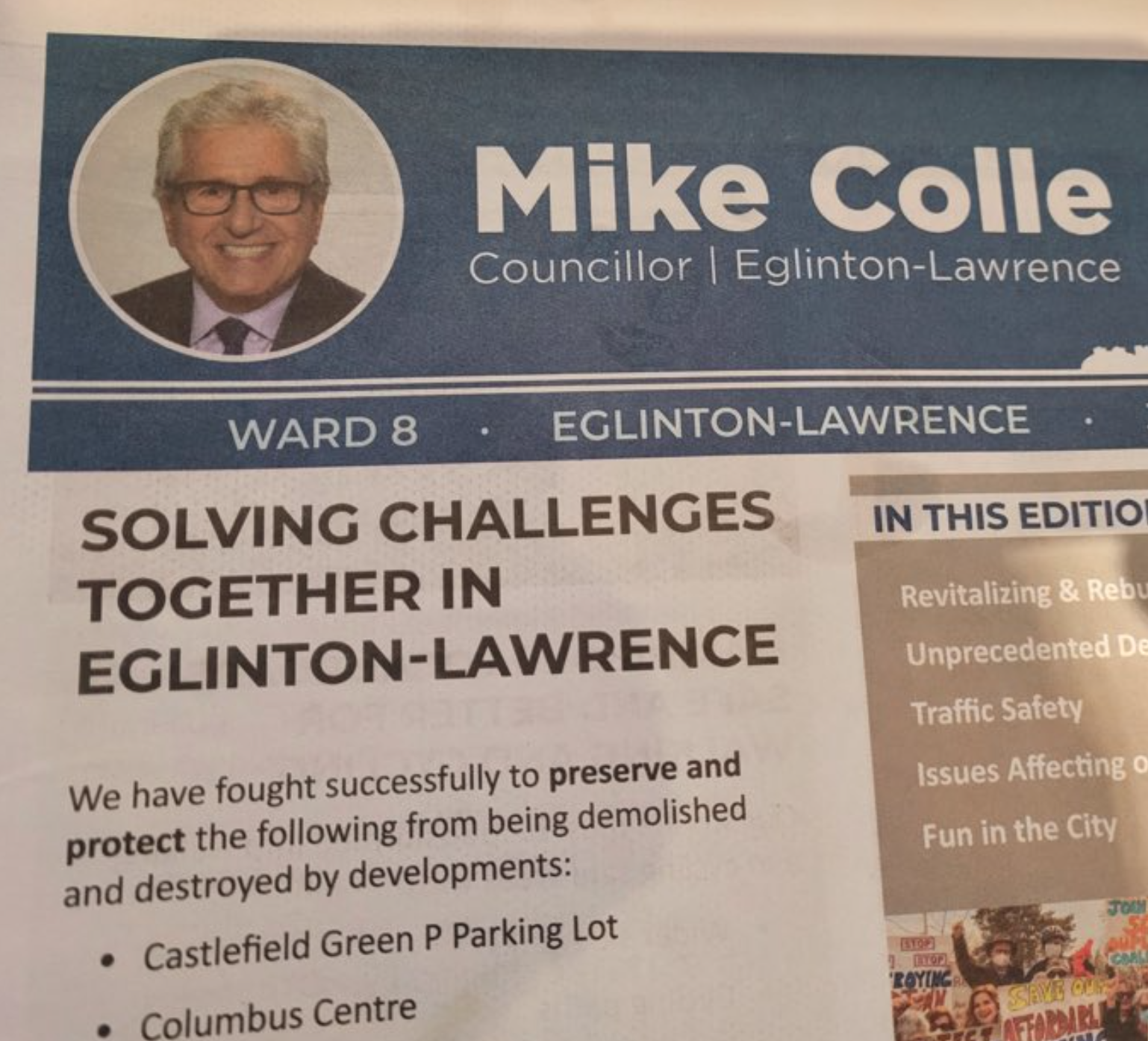 Trees have died for this
Colle excuses his opposition by imagining the parking lot could one day turn into a park, upholding the time-honoured NIMBY principle: "Trees for me; tents for thee".
"Frightening" "Shanghai on Yonge"
Deprecatory remarks towards Asian cities seen in video above are another example of Colle's archaic views. As it happens, councillor Colle recently discovered a fondness for comparing Toronto to places like Shanghai and Singapore - the kicker being that he is considering these cities as somehow beneath Toronto, blissfully unaware they are in fact years ahead when it comes to transit and development. In this, Colle reveals a common blindspot of Western leaders - the more their own societies diminish, the more they are quick to diminish others' achievements.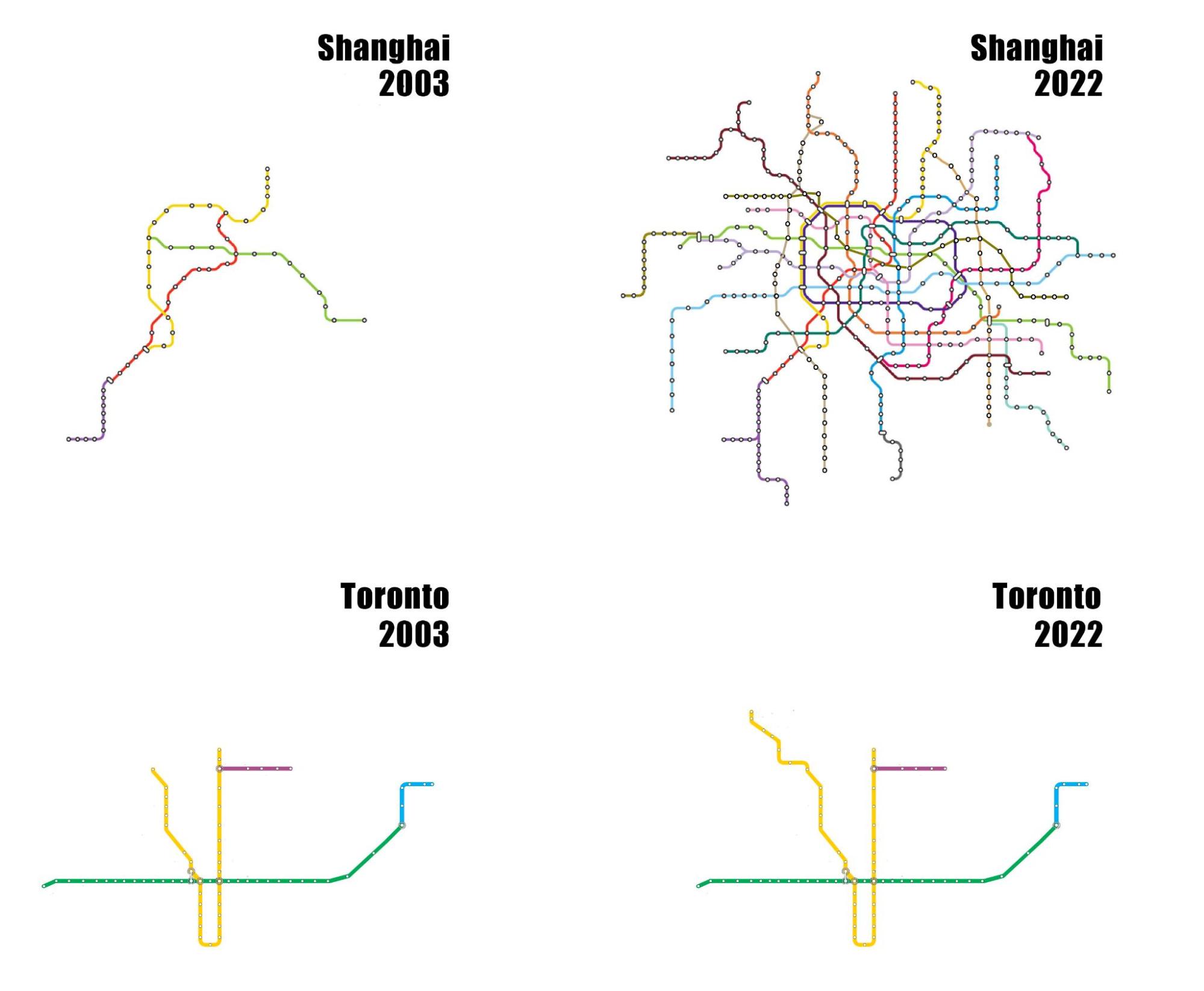 "Shanghai on Yonge"? If only.
Being out of touch is not a crime, of course. The problem arises when people who no longer keep with the times and new challenges become part of the problem instead of contributing to solutions.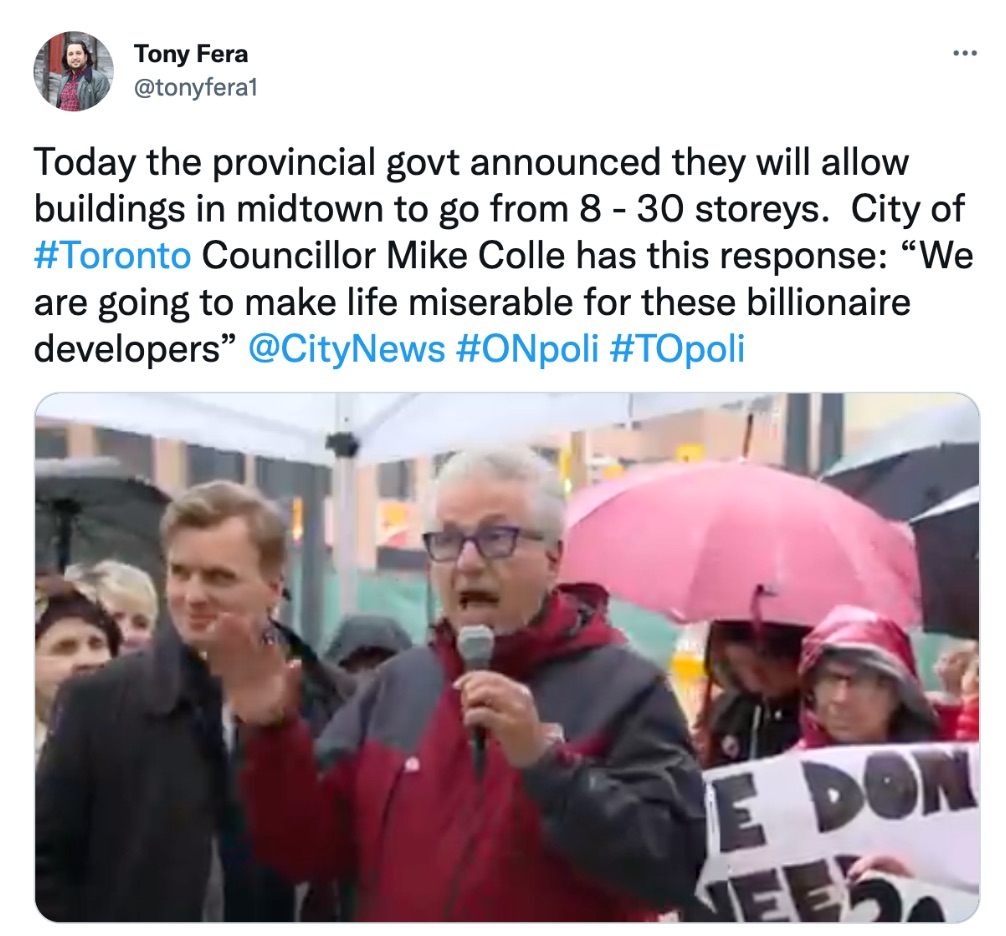 Big mansion owner threatened by small mansion owner threatened by affordable housing
And it's not like councillor Colle doesn't know better. In an interview from 2018, he mentions "jogging in cities in Portugal, Italy, Spain, Israel and China" (presumably the same China he uses to scaremonger his constituents) and extols the concept of a main street, "where people like to meet up and walk or shop or dine". Unfortunately few Toronto residents would agree Toronto fits this noble ideal. Which just goes to show what most of us already know: making other people's lives miserable is easy - building things is much harder.
JAYE ROBINSON, Ward 15 Don Valley West
Having once advocated limiting councillor's time in the office to two terms, Robinson is currently running for the fourth time, just in case someone else comes along who might not share her opposition to developing townhouses mere minutes from a subway station. And no, it's not because she thinks something bigger than townhouses should be built on this valuable land.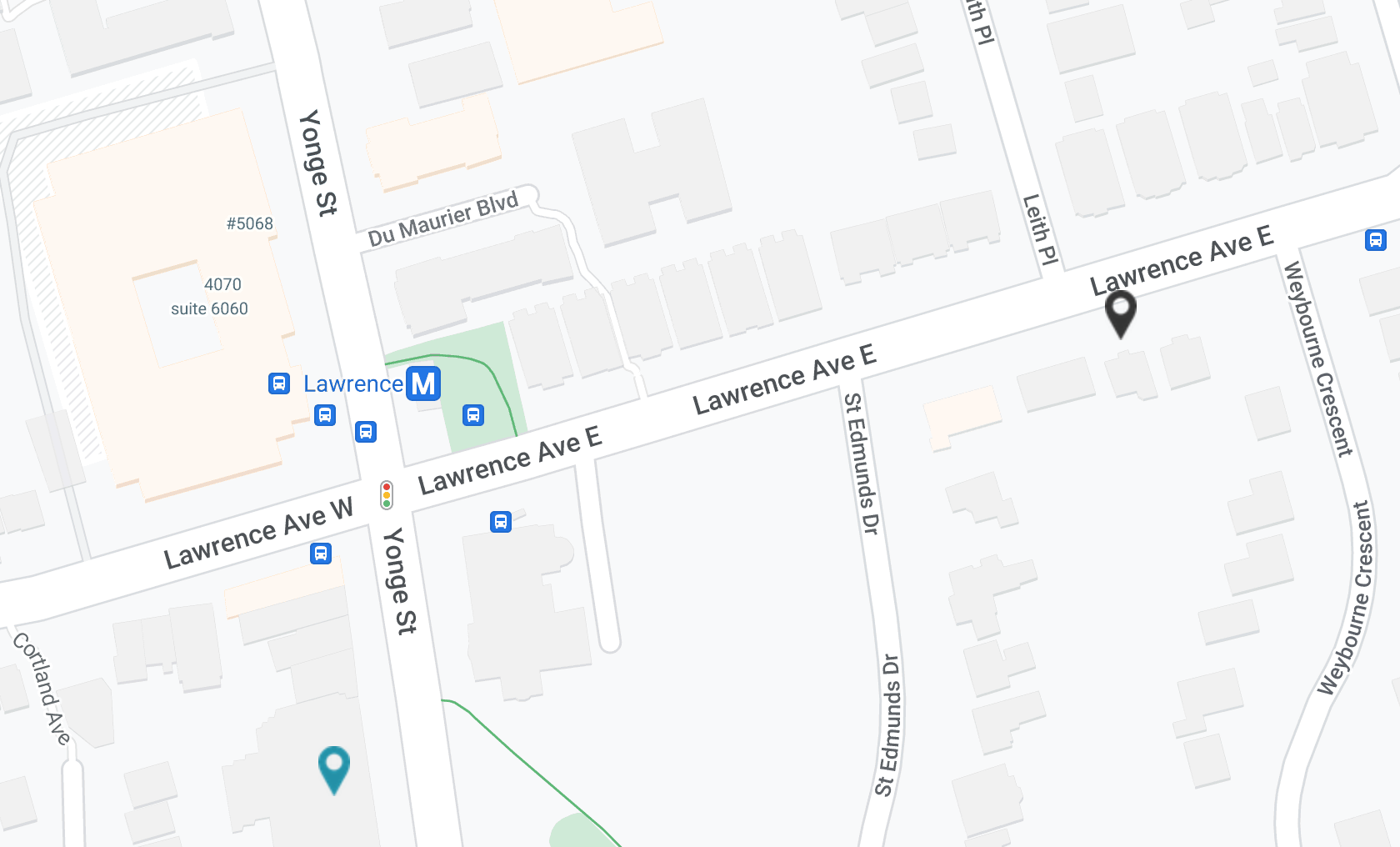 "A prime location to build a McMansion for someone who wouldn't be caught dead on a subway"
- Councillor Robinson, probably
Most concerning of all, in an act reminiscent of climate change denialism, she expressed scepticism that the housing crisis in Toronto even exists:
This doesn't mean councillor Robinson doesn't have the ear of her constituents - it's just the people whose interests she represents are members of homeowner cartels such as Federation of North Toronto Residents' Association and Leaside Residents' Association (formerly known as Leaside Property-Owners' Association, which apparently was a bit too on the nose). This can reach farcical proportions, like when a more progressive councillor tried to introduce a bill that would allow houses to have a secondary front entrance. Robinson's response was to put forward a motion to defeat the bill, ensuring renters continue to access their homes like the second-class citizens they are - through the back door.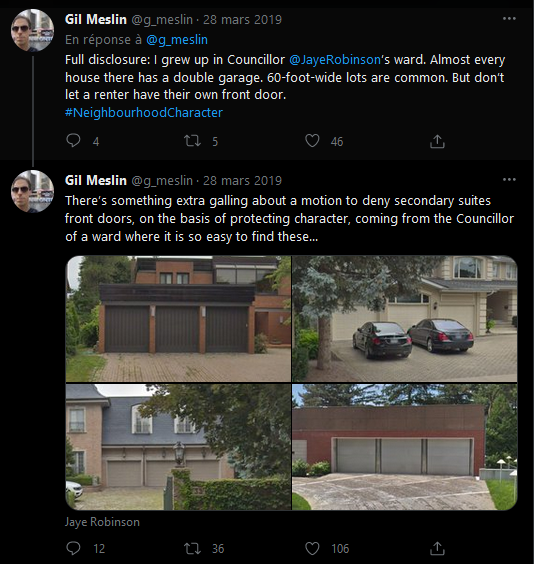 Don Valley West, where cars have more human rights than people
Robinson gave us the latest example of her lopsided priorities just a day before this article went live, when she declared Toronto a live museum - most likely so her affluent constituents can continue to cosplay living in a 19th century English village at the expense of people carrying the burden of their fantasy.
The only thing belonging in a museum is Jaye Robinson's antiquated thinking
She also has a propensity to accuse her critics of being shills for developers - a mindset which seemingly comes from her own experience of being beholden to rich NIMBY interest groups. It is a sad state of affairs when a public servant is incapable of understanding why anyone would advocate for others without personally profiting from it.
STEPHEN HOLYDAY, Ward 2 Etobicoke Centre
Most people get into politics to do something for their communities; Stephen Holyday's time in office appears to be devoted to standing against them: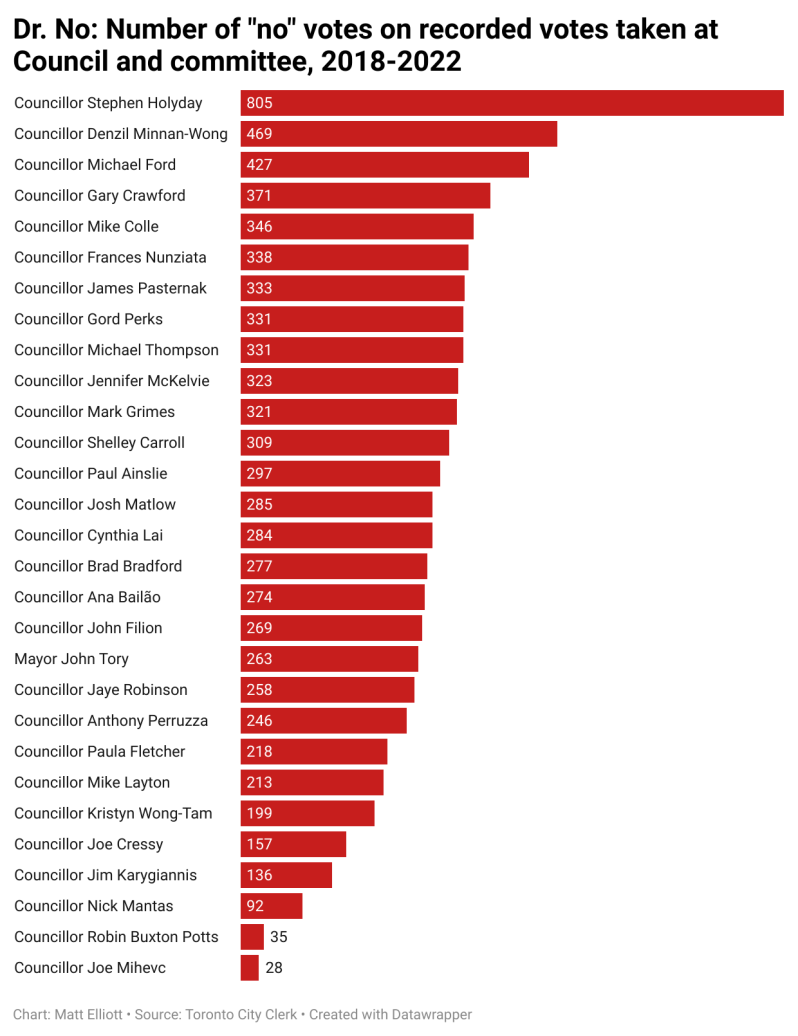 It will come to no surprise that Holyday's obstructive stance extends to all forms of new housing. And while Robinson and Colle might simply be callously indifferent to detrimental effects of their decisions, Holyday goes a step further and is openly hostile towards affordable housing projects and the unhoused: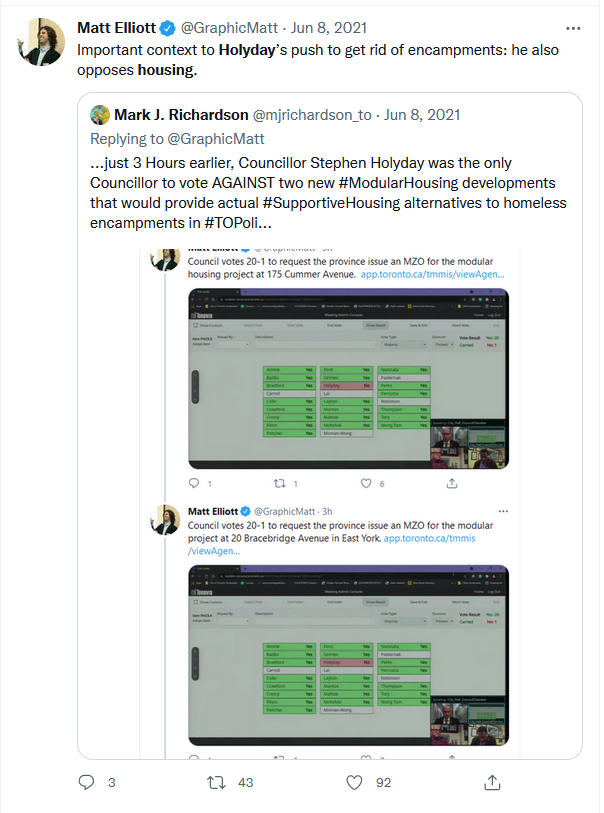 Alex Božiković of Globe & Mail singled out Robinson and Holyday as two "furiously anti-development [Toronto councillors]" - but that is underselling the duo, who are furiously anti-everything. Their voting records include being against small retail in neighbourhoods and voting against drinking in parks. But perhaps that shouldn't surprise us. After all, you don't lose anything by prohibiting others from having a beer in the park if you can sip wine in your backyard.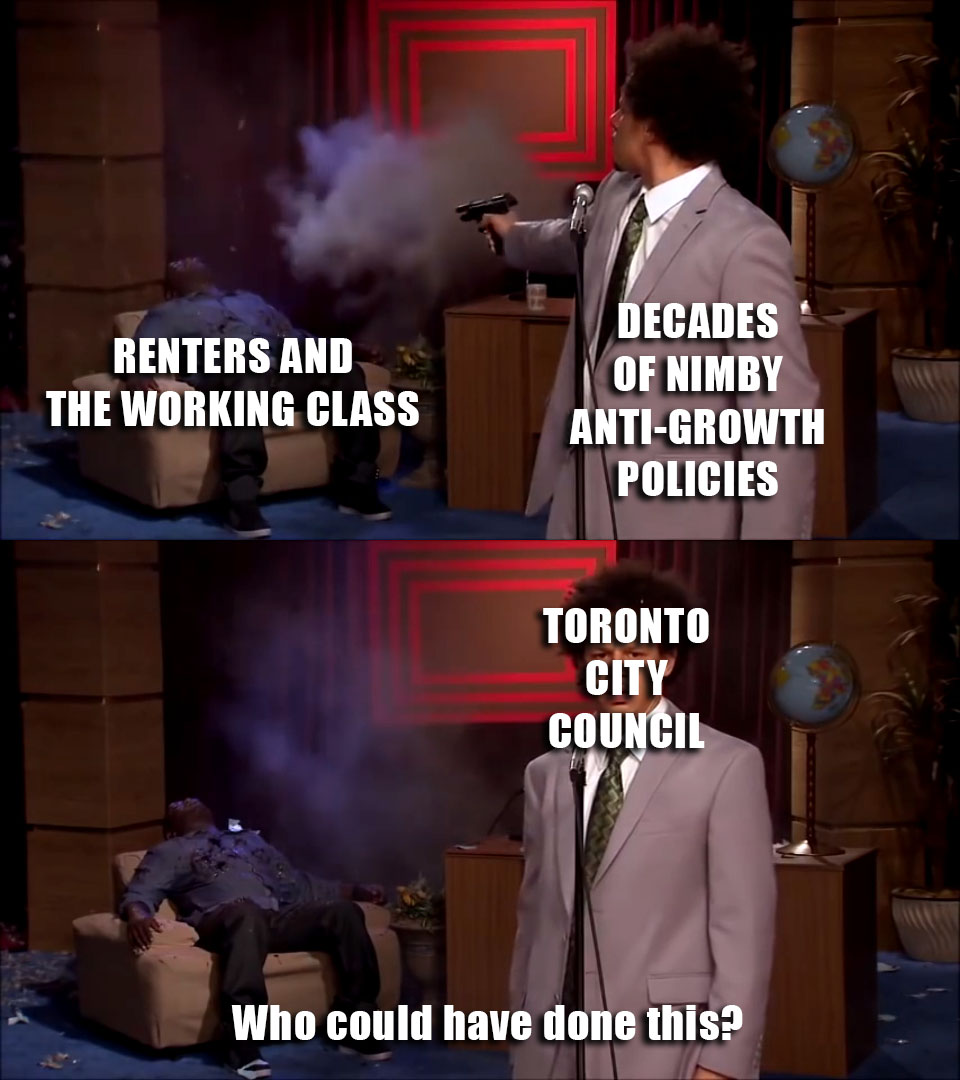 Time for another study by a committee to produce a task force to write a report
As outlined at the beginning, More Neighbours Toronto is a non-partisan organization that welcomes everybody, and we believe reasonable people can disagree on concrete politics. However we also believe no one should ever compromise on basic ethics. Mike Colle, Jaye Robinson, and Stephen Holyday are public servants who have repeatedly proven unwilling to uphold the fundamental tenet of the social contract - to protect the vulnerable and advance the common good. It is why we are compelled to condemn their work as city councillors and invite voters to choose more tolerant and fair-minded candidates this October.
Luckily, there are people ready to serve us better. Here are three challengers in the affected wards who we are proud to endorse for their inclusive and equitable housing policies. If you live in these wards, please consider giving them your vote; or please share the word that a better option is available!
Click the pics to visit these fine folks' websites
Put together by IMS, who came to Canada in 2016 by choice but the housing crisis might make him leave it by necessity. His fiction podcast The Program audio series surpassed 500,000 downloads and a segment was broadcast on CBC radio. He received the Toronto Arts' Council and Canada Council of the Arts grants for his dramatic works.