2023 Guide To Toronto's Mayoral Race
Introduction

In the heart of our great city of Toronto, there's a pressing issue that cannot be ignored: the housing crisis. Home prices and rents are soaring, pricing many out of the communities they've grown to love. The magnitude of the housing situation threatens the essence of our city's culture, with consequences felt by everyone but falling hardest on working class renters, young people, immigrants, and racial minority groups.
With the upcoming mayoral election, we at More Neighbours Toronto believe it's crucial to highlight the potential impact the next mayor can have on this urgent issue. Despite the disparities in grading scores between candidates, we view each of them as potential leaders on the issue at Council. It has been encouraging to see the bar raised, with every serious candidate heading in the right direction (even if not far enough). The scores have been constructed to highlight differences based on our objective (and yes, subjective) analysis, with a goal to help voters understand each candidate's stance on crucial housing matters relative to the others. 
Our goal in presenting this platform analysis is to provide you with a guide, illuminating mayoral candidate perspectives on key housing-related issues and hopefully making your decision a little easier. We encourage you to review our methodology and our municipal platform.
The lack of action from all levels of government has put Toronto on a dangerous path that could worsen our housing crisis. We cannot stand idly by and let this happen. Our analysis aims to show how each candidate could potentially influence the trajectory of housing in our city, and provide some insight into the potential future of housing in Toronto under their leadership. We invite you to join us on this journey of understanding and decision-making, and together, we can make a difference in our city's future.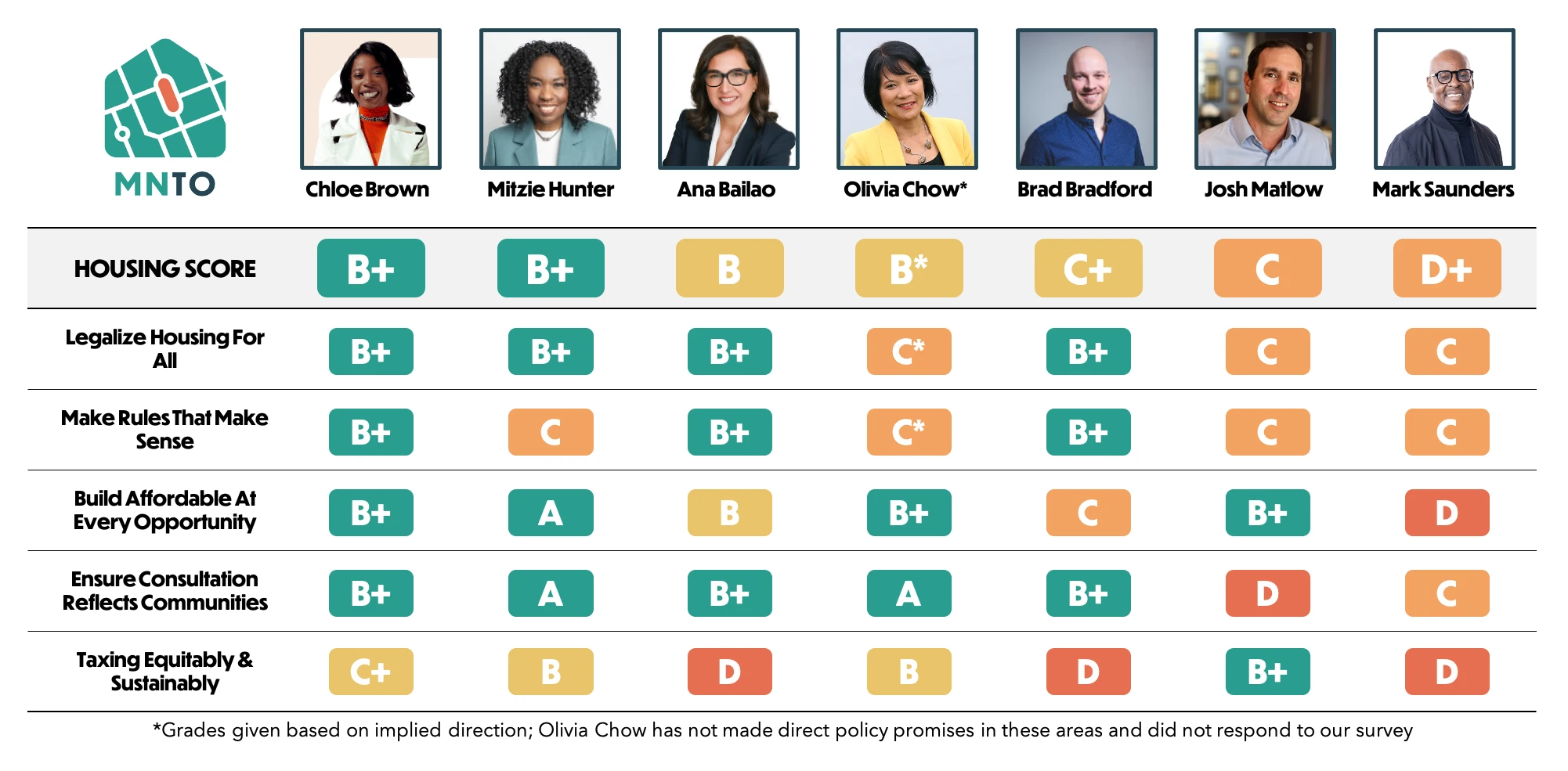 Methodology


Our approach to evaluating the housing platforms of each candidate is thorough, involving a careful study of their policies, surveys, and actions in various public settings. We've taken time to delve into the specifics of their plans and benchmarked them against each category in our 5-point municipal platform. As we sifted through the details, we have had our sights trained on the impact of their strategies on Toronto's housing landscape.
As part of our evaluation process, we have:
Extensively reviewed the policy plans of all campaigns, assessing their potential impacts.

Received valuable insights from the candidates who responded to our survey, namely Chloe Brown, Brad Bradford, and Mark Saunders.

Incorporated the ideas communicated by candidates in debates and public forums.

Considered the track records of existing and recent city councillors, examining their past decisions and contributions to housing policies.

Used the current council under Mayor John Tory as a benchmark, assigning it a C grade. It's noteworthy that most campaigns are scoring above this benchmark.

We have used grades instead of numbers to score candidates, but it is noteworthy to point out we only used the following grades: A, B+, B, C+, C, D+, D and F.
Our analysis aims to shed light on the key aspects of each candidate's platform. However, we understand that there are intangible elements—like a candidate's in-depth knowledge of housing issues or their stance on strong mayor powers—that we didn't evaluate. If these elements are important to you, we urge you to factor them into your vote. In this crucial decision-making process, our analysis serves as a map, but it's your priorities and values that will steer your vote.
It's important to recognize the potential perception of bias in our methodology, particularly toward more conservative candidates due to our Tax Equity and Sustainability stance. This ignited robust internal discussions at More Neighbours Toronto. However, we ultimately decided to underscore the alarming condition of Toronto's finances and the inherent inequity in a tax system that predominantly favors wealthier households over the rest, even when compared to other municipalities in the GTA and Ontario. As mayoral candidates vow to retain current property taxes in the face of the city's fiscal deficit, they inadvertently signal inevitable, albeit undisclosed, cuts to vital resources, services, and capital investments. Such an approach undeniably jeopardizes the city's housing ambitions, with those most vulnerable and in desperate need being the likely victims. Therefore, our reviews reflect this critical consideration, calling for leadership that is willing to address these financial realities boldly and equitably.
Please select the "+" icon to expand the methodology for each category.
This category puts emphasis on a candidate's willingness to pursue meaningful zoning, planning, and land use reform. Candidates were assessed on their openness to drive meaningful changes in these areas—key factors that can potentially turn the tide in Toronto's housing crisis. Our evaluation rewards not only those who discussed these issues but have advocated for substantial policy changes:
Their willingness to challenge and reform the current land use and zoning rules in the city.

The frequency and depth of their discussions on this subject in debates and on the campaign trail.

Their readiness to exceed the bounds of the current Housing Action Plan in favor of bolder, more impactful strategies particularly for Rooming Houses, Multiplexes, Small Apartments, Mid Rises, and PMTSAs

Their track record on planning, zoning, and land use reform, and whether they have been champions on this issue.

On the flip side, deductions were made for candidates who did not express their openness directly, who have poor records, or who did not show a willingness to progress on this issue.
Make Rules That Make Sense
This category zooms in on candidates' willingness to reassess and change rules and guidelines that currently render legal housing projects infeasible. This involves evaluating the candidates' stances on a broad range of urban planning issues that can significantly influence the city's housing supply. Under this lens, candidates were examined based on:
Their commitment to modifying arbitrary urban design guidelines, such as angular planes and floor plate restrictions, which often obstruct the development of larger, family-oriented units.

Their approach to heritage rules, with an emphasis on their support for designating buildings that have genuine historical or architectural value, as opposed to bulk listing practices.

Their willingness to reduce or eliminate parking requirements, especially for rooming houses, which could significantly increase housing availability.

Bonus points were awarded to candidates who publicly underscored that a neighbourhood's character is defined by the individuals who live there, rather than purely aesthetic aspects.

Conversely, candidates were marked down if they did not commit to changing any of these key rules, signifying a potential resistance to essential housing reforms.
Build Affordable At Every Opportunity
This category emphasizes candidates' willingness to prioritize affordable housing and to put forth realistic plans that would result in a sustainable number of housing starts by 2026. Candidates were assessed on key aspects of their affordable housing and/or public builder plans and budgets.
Their willingness to put forth balanced or costed budgets and downstream of that, their consideration towards capital costs (at least $2 billion for a typical site), increasing construction costs and other financial factors.

Their willingness to design projects in a way that would allow significant funding from the CMHC or from initiatives such as CIHA that could change the tides of developments.

Their commitment to taking advantage of existing public lands and amenities (e.g. Toronto Public Library, Toronto District School Board, Toronto Police Service) to develop affordable housing in tandem with community services.

Their willingness to leverage and maintain city land ownership as much as possible via land leases to affordable housing developers, shared-equity housing or through the use of public builders.

Their willingness to embrace strong rental replacement policies and collaborate with underrepresented communities in the process of building affordable housing.

Their record on the treatment of homeless residents and others in need of deeply affordable housing solutions.
Ensure Consultation Reflects Communities
This category takes a look at how candidates are proposing to move beyond the outmoded model of hyper-local, in-person consultations in a high school gymnasium that only happen on the fourth Thursday after a full moon and towards more diverse forms of consultation. These would give consideration to: newcomers, folks who work under alternate schedules, parents, racialized and Indigenous people, singles and young people; demographics not traditionally represented at consultations and would allow rezoning applications to either gain more substantial feedback from their respective communities or to move faster to a shovel-ready state by bypassing consultation altogether.
Their willingness to embrace online consultations in addition to in-person consultations

Their willingness to seek out underrepresented communities in the consultation process

Their acknowledgement that at least 50% of Toronto rents and that consultation should consider their needs..

Their commitment to forgoing consultations for variances, proposals along transit and other special cases.
Tax Equitably & Sustainably
For too long, Toronto has kept property taxes low for political convenience; much lower than bordering municipalities, in fact. Many City services and particularly the TCHC and TTC have seen severe funding reductions and corresponding quality-of-service decreases in the process. This category examines candidates' willingness to challenge this mindset for the better and how they will buttress municipal finances while increasing residents' quality of life.
Their willingness to embrace property tax increases to fund housing construction and procurement and other City services.

Their willingness to equalize multi-family and single-family dwelling property tax rates and remove the relative property tax burden from residents of multi-family dwellings.

Their commitment to limiting development charges to encourage the construction of more affordable housing and more multiplexes and other missing middle housing in neighbourhoods.

Where applicable, their commitment to tax rebates and abatements that make it easier for Torontonians to act as small developers for density or to save money living in the city.

Their willingness to embrace realistic additional revenue tools such as parking levies or tolls to combat car dependency, encourage various other modes of transport and build the transit-oriented communities that will enable them.
Mayoral Candidate Reviews
Please select the "+" icon to open the reviews for each mayoral candidate
Chloe Brown, despite not being included in many major debates, has emerged as an outsider candidate with an articulate vision for Toronto's housing. Her clarion call for "Japanese Zoning and Dutch Urban Design'', is an attitude honed to appeal to us at MNTO, and in Toronto stands as a testament to her detailed and innovative approach to addressing the housing crisis.
In her favour, Chloe Brown offers:
A detailed strategy that couples market-oriented land use and planning reforms with a proactive government role, including the utilization of public land, public ownership, land trusts, and direct investment.

A robust housing-first strategy to combat homelessness, emphasizing expanded modular housing solutions, improved planning for warming shelters, and transitional supports that prioritize harm reduction and rehabilitation.

Innovative proposals to digitally enhance RentSafe and modernize data reporting for a fairer policy environment around ownership and tenancy.

A strong focus on community land trusts to maintain and expand non-profit affordable housing options.

Commitment to removing stifling rules around angular planes, floor space index, shadow policies, and other design restrictions that impede the construction of quality family-sized units.

A plan to collaborate with provincial and federal governments to revise policies and requirements for funding programs linked to mixed-social housing development.

A belief in the power of transparency in Toronto Community Housing Corporation (TCHC), proposing the analysis of builder, operator, maintenance, and repair data to better connect residents to work opportunities.

A Championing policies to permit pre-patterned multifamily housing and broaden as-of-right building.

A dedication to inclusivity in public discourse and a willingness to raise property taxes to fund her affordable housing commitments.
Despite these strengths, certain aspects of Chloe Brown's platform invite criticism:
While her vision to reorganize the city is commendable, it seems somewhat unrealistic, which could impact the feasibility of her proposals.

The financial implications of her proposals remain largely undefined. Without clear cost estimates and a tangible plan to address the budget deficit, it's challenging to assess the practicality of her housing plans.
In conclusion, Chloe Brown's platform brings forward several innovative proposals to the table. However, some of her ideas need further refinement to ensure their practical implementation, and a clear understanding of the associated costs and budgetary impact is necessary.
Mitzie Hunter has commendable experience in affordable housing advocacy, amassing a wealth of knowledge as the Chief Administrative Officer of TCHC, the Chair of CivicAction, and through numerous other non-profits and as a Member of Provincial Parliament in Scarborough-Guildwood. Hunter's understanding of the housing crisis is informed by a lived experience in her community and extensive dialogues with constituents across Ontario. Her mettle was particularly tested during the COVID pandemic, where she supported the Municipal Emergencies Act 2020, championed freezes on evictions and rent increases, and advocated for online consultations. She has consistently thrown her weight behind small businesses and affordable housing activists, a commitment mirrored in her platform, which emphasizes missing-middle housing, mixed-use zoning, and the integration of housing in new and existing municipal service buildings.
Strengths of Hunter's campaign:
Her extensive knowledge in affordable housing policy and effective strategies for the creation and maintenance of housing is admirable.

We laud her efforts to engage marginalized and underrepresented communities in housing discussions and developments.

Despite their questionable feasibility due to provincial approval requirements, we appreciate Hunter's proposed property tax rebates and exemptions aimed at encouraging small and family developers, while alleviating the burden on low-income and disabled Torontonians.

We acknowledge the campaign's sincere effort in offering detailed cost estimates for its promises.

We welcome her approach to public institution building for affordable housing, akin to Josh Matlow's Public Build Toronto plan.

Her clear stance on multiplexes, rooming houses, small apartments, midrise on avenues, and increased density in PMTSAs is commendable.

We value the depth of knowledge Hunter brings to housing issues, especially drawn from her TCHC experience.
Areas for improvement:
Despite her apparent support for missing-middle housing, her campaign lacks emphasis on market-oriented reforms and changes to city processes, both pivotal for long-term success.

There's an inadequate mention of how she would address rules that frequently impede new housing projects, such as Angular Planes, Shadow Policies, Floor Plates, and FSI.

While her plan to create affordable housing using city land assets is commendable, her proposed affordability unit mix (68%) seems unachievable, considering the challenge in realizing even a 30% target in current initiatives.
In conclusion, Mitzie Hunter's mayoral campaign stands out for her extensive experience in and commitment to affordable housing. She demonstrates an impressive understanding of housing issues and a robust plan for public accountability in affordable housing. However, her campaign could benefit from a greater emphasis on market-oriented reforms and a more practical approach to housing affordability targets.
Ana Bailao has been a proactive advocate for housing even before the crisis came into the limelight. It would be unjust to solely attribute the council's failures to her, despite her role as a deputy mayor. Notably, Ana was instrumental in securing $2.6B in funding to address renovation and maintenance backlogs in TCHC housing stock. Moreover, the Housing Action Plan, initiated by John Tory, reflects her influential role over the years. Her focus on renters is commendable, albeit we are skeptical of her proposal for rental-only zoning. As a key player in the fledgling HousingNow initiative, she must shoulder some accountability for its current state. We give credit to Ana for being the first politician to connect with our organization in mid-2021, which displays her commitment to inclusive public consultation.
Things we liked about Ana Bailao's Platform:
We admire her ambitious commitment to exceed the Provincial Housing Target of 285K homes over 10 years, with 20% targeted as purpose-built rentals.

Ana deserves recognition for her advocacy for garden and laneway suites, rooming houses, multiplexes, and modular housing solutions.

We appreciate her focus on collaborating with provincial authorities, universities, and colleges to develop a concrete student housing strategy.

Her comprehensive cost breakdown for affordable and deeply affordable housing proposals is highly appreciated.

We endorse her proposal to freeze development charges on purpose-built rentals and to eliminate them for the first 4 units of multiplexes.
Things we didn't like about Ana Bailao's Platform:
Her pledge to keep property taxes at or below the rate of inflation is unserious in regards to sustainable and equitable city finances.

Her proposal to have the province upload the Gardiner and Don Valley Parkway seems untenable, and isn't actionable without provincial support.

We are skeptical of her plan to zone specifically for purpose-built rental, as similar "people zoning" policies haven't yielded positive outcomes in the past.

We wish for more clarity on how she plans to enhance the Housing Action Plan as Mayor.

Ana's approach to key issues around homelessness, particularly evicting park encampment residents without suitable alternatives, has been disappointing.
Ana Bailao's housing platform is ambitious, and she has a demonstrated commitment to resolving Toronto's housing crisis. However, her stance on homelessness and taxation, coupled with the lingering issues of HousingNow, require attention. Overall, she is a trustworthy leader on housing, despite the areas that need improvement.
* The Olivia Chow Campaign has not made significant promises on zoning, land use, city processes, and urban design policies that make it harder to deliver much needed housing, and therefore, made it difficult for More Neighbours to assign a score for the first two categories. Hence, we have assumed that a Mayor Olivia Chow would not depart significantly from the roadmap set out by John Tory.
Olivia Chow presents a heartfelt narrative for ending Toronto's housing crisis, backed by a plethora of personal anecdotes that humanize the struggle. Her campaign stands out for its focus on renters and on deeply affordable housing. However, the relatively sparse policy commitments on key market-oriented reforms needed to facilitate housing supply growth are a drawback, and could be rectified by presenting a plan that acknowledges reforms to city policies that suppress the creation of new housing in general. In these areas, we cannot assume she would do more than John Tory, which is disappointing. Nevertheless, Chow's engaging approach to public discourse is commendable.
What we appreciate about Olivia Chow's platform:
Chow's commitment to city priorities over maintaining property taxes below the rate of inflation is commendable.

We appreciate her experienced approach to public engagement and consultation, as demonstrated during her tenure as a city councillor.

Chow's focus on tenant protections and maintaining affordable units is top-notch.

We support her proposal for a tax on luxury homes valued over $3M.

Chow's plan to leverage rent vouchers to assist homeless individuals when shelters are full is a thoughtful approach.

We back her proposal to invest in additional shelters, 24/7 respite centers, and a new fund dedicated to wrap-around services.

Her intent to increase Rent Bank assistance and invest in RentSafeTO to align it with the program's original intention.

Chow's plan to build 25,000 new rent-controlled homes of various tenures is a good step, although we believe the policy could go further.
Areas where Olivia Chow could improve:
Her unwavering commitment to not use strong mayor powers may limit her capacity to address the housing crisis effectively as Mayor.

We encourage Chow to make stronger commitments to continue or exceed reforms outlined in the Housing Action Plan and to express clearer perspectives on zoning, land use, urban design guidelines, and other public policies that often hinder new housing.

While we applaud her overall approach to the city's budget, we believe her campaign could provide more definitive guidance on property taxes.

Her approach to utilizing vacancy taxes is misguided, given the low number of reported vacant homes and the challenges low vacancy rates present for renters.

While we commend her commitment to tenant rights and protections, we believe Chow's focus on vacancy control is also misguided because, like Bailao's proposal to upload the costs of the Gardiner Expressway, it cannot occur without provincial approval.
Olivia Chow brings a humanistic and empathetic approach to the housing crisis. Her commitment to prioritizing city needs over inflation-based property tax limits is refreshing. However, greater clarity on policy commitments and a reconsideration of her stance on vacancy control would enhance her position on housing reform.
Brad Bradford boasts an impressive record from his tenure in council and as the Chair of the Planning and Housing Committee, frequently leveraging his expertise in urban planning. He has staunchly advocated for market-oriented reforms to tackle housing shortages, playing a pivotal role alongside Ana Bailao in legalizing Multiplexes in Toronto. Bradford's championing of the EHON initiative, which helped shape Mayor Tory's Housing Action Plan, speaks volumes about his commitment to housing reform. Despite public dissatisfaction, he has stood resolute in supporting shelter housing and various affordable housing projects. However, Bradford's relatively low grade among candidates reflect stances he's taken throughout his current campaign on property taxes and the Gardiner Expressway, along with a mixed record on homelessness issues and his partial responsibility for the city's fledgling record on the HousingNow program.
Things we admired about Bradford:
Bradford has established himself as a leader in driving needed reforms, showing an impressive record on the Planning and Housing Committee and the council on vital initiatives. He championed Multiplexes, Small Apartments, changes to rules and processes, and other initiatives to facilitate housing construction.

He has a deep understanding of housing policy and supports numerous changes to urban design rules, like angular planes and shadow policies, that impede the viability of housing projects, particularly family-friendly layouts.

His commitment to accelerating key opportunities in the Port Lands and Downsview to address the housing crisis is promising.

His plans to make pre-patterned multifamily housing designs readily accessible and by-right, hire more planning staff to process applications, and zone more permissively to allow more homes as-of-right are commendable.

His vision to unlock government-owned lands for more affordable housing, streamline bureaucratic approvals, and empower the Development and Growth Division to address Toronto's housing crisis is much needed.
However, there are aspects of Bradford's platform that invite criticism:
His plans to go beyond the Housing Action Plan lacked specific details, and we generally hoped for a more detailed platform given his expertise in this space

The city's record on the HousingNow initiative, which he shares responsibility for, has not been successful thus far

His policies don't go far enough to recognize the city's responsibility to invest more in deeply affordable housing is concerning

We are very disappointed with his votes on warming shelters and the eviction of homeless individuals from parks, especially absent stable housing to provide them with

His support for the Gardiner Expressway and opposition to above-inflation property tax increases, especially his criticism of other candidates' stance on it, was suprising to us

His opposition to raising property taxes above inflation undermines his credibility on tax equity and long-term financial sustainability of the city
In conclusion, while Bradford has shown strong leadership on market-housing reforms, certain decisions and positions he has taken recently have stirred criticism. His future commitments should address these concerns and provide a clearer path to tax fairness in order to solve Toronto's housing crisis.
Josh Matlow presents a well-structured and costed plan that takes housing affordability in Toronto seriously. His record and proposals demonstrate a thoughtful approach to city-wide changes, such as the removal of parking minimums, and supporting low-rise forms in neighbourhoods. Furthermore, while Matlow has had a mixed record catering to NIMBYism in the past, we believe his change in perspective is sincere. However, his plan still adopts a more cautious tone when it comes to increasing density, showing a preference for mid-rise development along designated avenues.
In the positive light, Josh Matlow brings to the table:
Detailed and cost-effective proposals aimed at improving housing affordability.

Strong record on promoting city-wide changes, including eliminating parking minimums, even for rooming houses, and supporting low-rise forms in neighbourhoods.

An ambitious public builder proposal which, while requiring more seed funding and needs to address many of the city's process barriers, proposes an achievable unit mix utilizing city-owned land.

His promise to fast-track development applications for affordable housing.

A show of strong leadership on investigating encampment clearings and advocating for permanent housing as a primary long-term solution.

Strong record on protecting renters, and an unambiguous plan on funding city services, including property tax increases and lower rates for new multi-residential construction to incentivize purpose-built rental.
However, his housing platform isn't without its challenges. There are areas where Matlow's approach raises questions:
While he supports reviewing density "where it makes sense", there's ambiguity around high-rise development, where Matlow has previously deferred to existing residents to reduce height or shadows. Although he recently committed to revisit this for an affordable housing site in his ward, clarity around his general stance is needed.

His belief that more consultation will necessarily lead to better plans and more housing support is questionable. His proposal for regional plans doesn't seem to differentiate much from the existing Secondary Plan process or the previously proposed Development Permitting System. These have neither increased community satisfaction with development nor reduced appeals or the need for site-specific rezonings.

There is a potential conflict between his evidence-based policy approach and the priorities of existing residents. It's unclear which will take priority, but his past record suggests deference to existing residents.
Matlow's housing platform shows promise in several areas, but there are aspects that call for more clarity and reassessment, ensuring that the much-needed housing reforms don't get bogged down in process or compromise.
As one of the more conservative candidates in the race, Mark Saunders' focus on housing is squarely on market-driven reforms. Despite the score rewarded, many members of MNTO have been positively surprised by his campaign on housing issues specifically. He earns points for championing zoning reform, mixed-use developments, and easing housing development regulations. However, Saunders' vague plans for improving the Housing Action Plan and the NIMBY-friendly endorsement from councillor Stephen Holyday raise eyebrows. His lack of specifics on transit corridor and avenue upzoning, disregard for tenant and homeless protection policies, and unwavering stand against property tax hikes culminate in the lowest score among notable mayoral candidates. As a result, we do not believe Mark Saunders would go further than former mayor John Tory would have on this issue.
Strengths of the Mark Saunders campaign.
He proposes modest density bonuses for new developments including below-market-rate units, which could spur more affordable housing.

He supports denser student housing near universities, potentially easing the housing crunch for international students.

He backs Minister's Zoning Orders for supportive shelters and the removal of development charges for primarily affordable developments.

He endorses more digital public construction consultations, boosting accessibility for renters and marginalized groups.

Saunders' campaign emphasizes the importance of engaging with provincial and federal governments in key policy areas to support housing initiatives. This includes advocating for HST exemptions for purpose-built rentals and affordable ownership, as well as lobbying for changes to CMHC financing rules.

His platform champions the necessity of acquiring both capital and operational funding for modular housing and shelter spaces. He also recognizes the crucial role the next mayor should play in securing resources and services for refugees from Federal and Provincial governments.
And the things we didn't like:
Saunders' militaristic approach to homelessness, inherited from his tenure as a police chief, is concerning. He promises to end encampments without a detailed plan on how to assist the homeless population.

While he agrees on the need for zoning reform and a greater housing supply, Saunders falls short on providing a clear suggestions on what he does or does not support

His positions on city-led affordable housing are weak. He doesn't advocate for city-built-and-operated housing units or suggest improvements for the HousingNow program.

Saunders is adamantly against any form of municipal tax increases. Without clear alternative sources of funding, this stance could put necessary services for new developments at risk.

His strong support for maintaining the Gardiner Expressway, despite the potential costs and impacts, shows a lack of consideration for sustainable urban planning.

The endorsement from councillor Stephen Holyday, known for his NIMBY viewpoints, raises questions about Saunders' commitment to inclusive urban development.
Saunders' strong focus on law-and-order messaging throughout his campaign has taken quite a bit of his attention away from housing, which brings his overall score down in our view. The housing crisis is undeniably the most important crisis facing the city in 2023, and while Saunders has said many of the right things in theory, his past record, current stances surrounding homelessness issues, and lack of detail in his zoning and affordable development plans leads him to miss the mark on truly convincing us he can alleviate the crisis.